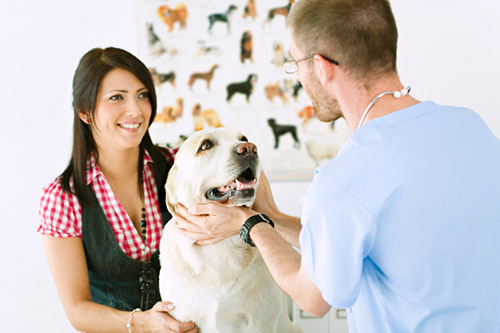 Because of the shorter lifespan of our pets, we stress the importance of an annual physical examination. Thorough check-ups and preventative care can help alleviate serious health problems. We offer a wide range of veterinary services to keep your companions feeling their best:
Surgical Services:
Our surgical suite provides for the performance of a wide variety of surgical procedures.
Anesthesia:
We utilize safe anesthetics to provide an extra margin of safety, especially for our older or high-risk patients. Using the modern equipment, the patient's vital signs are monitored during all anesthetic procedures.
Radiology Services:
Our on-site, digital X-ray equipment provides radiographs to aid in the quick diagnosis of many disorders. We also use tele-medicine to consult with radiology specialists.
Ultrasound/Echocardiology:
We offer ultrasound and echocardiology services.
Dentistry:
Our dental services include teeth cleaning and polishing, tooth extractions and oral surgery.
Laboratory:
Our in-house laboratory facilities provide for serum chemistry, hematology, serology, urinalysis and parasite testing. We also utilize commercial veterinary laboratories for specialized diagnostics and consultations.
Permanent identification:
We offer microchip placement and scanning.
Pharmacy:
We maintain an inventory of pharmaceuticals, heartworm preventatives, vitamins, shampoos and flea and tick control products to meet the needs of your pet. We also carry the Hill's, Purina and Royal Canin line of prescription diets.
Dietary Counseling:
We will provide guidance regarding your pet's nutritional needs for each life stage, including dietary requirements for growth, weight maintenance and performance.
Boarding:
We provide pet boarding as a service to our clients. All boarders receive personal attention from our caring staff. Pets may be dropped off and picked up during regular business hours Monday through Saturday.
Bathing:
Routine and therapeutic bathing services are available.
Emergency Care:
Please call our main telephone number for instructions for after-hour emergencies. The direct line to the emergency clinic is 691-1504.
Health Certificates:
We perform routine health checks for interstate travel. International Health Certificate consultation is available.
Medicine
As a general veterinary practice for companion animals, we are equipped to handle prevention, diagnosis and treatment of many common, and some not-so-common diseases of dogs and cats. We use histories, comprehensive physical examination, diagnostic tests, in-house hospital facilities, and a well-stocked pharmacy to accomplish these tasks.
We approach each medicine case with the philosophy of evaluating the whole animal, which allows diagnosis and treatment of underlying conditions, not just treatment of symptoms.
Some of the more common conditions we diagnose and treat include:
Dermatological Problems, such as skin allergies, flea allergies, mange, fungal infections, food allergy, and immune-mediated skin conditions.
Cardiopulmonary Conditions, such as heartworm disease, congestive heart failure, asthma, bronchitis, kennel cough, pneumonia, upper respiratory infections, collapsing trachea, and mitral valve degeneration.
Neurological Conditions, such as Disk Disease, Degenerative Myelopathy, Vestibular Disease, and head trauma.
Orthopedic Conditions, such as osteoarthritis, congenital joint dysplasias, ligament tears, and traumatic injury.
Gastrointestinal Diseases, such as gastroenteritis, colitis, parvo virus, bloat, inflammatory bowel disease, foreign body ingestion, and intestinal parasites.
Urinary tract conditions, such as bladder infections, bladder stones, kidney failure, urinary obstruction, and bladder tumors.
Reproductive problems, such as pyometra, mammary tumors, and problems with delivery.
Dental disease, such as broken teeth, retained baby teeth, dental tartar, gingivitis, and stomatitis.
Intoxications, such as antifreeze toxicity, rat poison toxicity, pharmaceutical intoxications, and pesticide poisoning.
Surgery
At Key City Veterinary Clinic, we have a surgery room that allows us to perform a wide range of surgeries, both elective and non-elective, on dogs and cats.
We offer pre-surgical testing to ensure that we minimize the risk of putting your pet under general anesthesia.
While under anesthesia, we use a safe anesthetic agent, and have a monitoring protocol to make the procedure as safe as possible.
We also perform our surgeries using sterile technique to minimize the risk of post-op infection.
Pain control is also very important to us, and we take measures to ensure your pet is as pain-free and comfortable as possible. We also offer pain medication to be prescribed for your pet after the surgery while it is recovering at home.
Most of our elective surgeries are performed on an outpatient basis, meaning, in most cases, your pet will be able to go home on the day of surgery.
Prior to any general anesthesia, pets should not be fed after 10:00pm the night before. Do not feed or water the morning of drop off for their procedure.
Elective surgeries, such as spaying, and neutering
Orthopedic surgeries, such as patellar luxation repair, knee ligament repair, fracture repair, and amputation.
C-sections, both emergency and planned.
Urinary tract surgeries, such as bladder stone removal.
Laceration repairs and trauma such as fight wounds or trauma.
Tumor removals from skin, muscle, fat or internal organs
Open abdominal surgeries, such as gastropexy, foreign body removal, intestinal biopsies, splenectomy, resection and anastomosis of small intestine, and bloat.
Biopsies of skin and internal organs
Preventative Medicine
We believe that taking the proper measures to prevent disease will add years and quality to the lives of our patients…your pets.
Some areas of preventative medicine that we stress include:
Vaccination. The simple process of getting your dog or cat their "shots" on time is a very important thing that pet owners can do to prevent serious and life-threatening diseases such as canine parvo virus, canine distemper, and feline leukemia.
Heartworm prevention. About nine out of every ten dogs will contract heartworms if they are not on a monthly preventative medication. Heartworm disease is the single most preventable condition that we see in practice today. For more information on heartworm disease, please ask our staff.
Parasites. Monthly heartworm preventative medications also prevent infestation with intestinal parasites. These medications, in addition to strategic deworming, help prevent these very common "worms" from infecting your dog. Monthly topical and oral flea control products are also available.
Yearly Senior Wellness Screening. Older pets are more prone to kidney disease, liver disease, diabetes, heart disease, thyroid disease, certain types of cancer, and metabolic problems. The problem is that, in the very early stages of these diseases, there are often no outward symptoms. Therefore, as your pet reaches AGE SEVEN, we recommend semi-annual examinations and yearly laboratory testing, not only to screen for early stages of these serious diseases, but also to provide a baseline with which to compare future results.
Healthy Paws Wellness Package (feline)
Healthy Paws Wellness Package (canine)
Genetic Health Analysis. We offer the Royal Canin Genetic Health Analysis DNA test for dogs. The Genetic Health Analysis shows three generations of your dog's lineage by comparing your dog's DNA to the unique genetic signatures of more than 250 breeds, types, and varieties of dogs. It provides information about genetic markers that predispose your pet to certain illnesses by testing for more than 130 genetic mutations, including MDR1 for drug sensitivity. Genetic Health Analysis is more accurate and provides more helpful health information than cheek swab-based tests that you can purchase over the counter. For more details on this test, visit Royal Canin @ www.royalcaningha.com.
Diagnostic and Therapeutic Services
Our hospital is equipped to provide diagnostic and therapeutic services to care for your pets' health care needs.